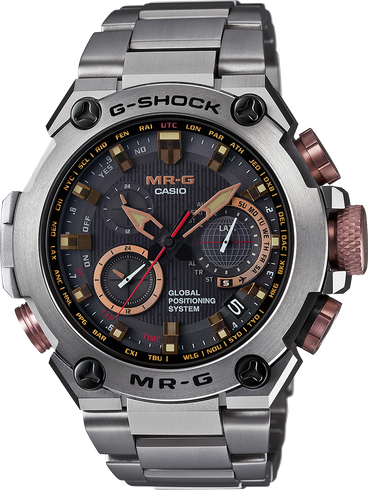 MRGG1000DC-1A
$2600.00
MR-G, the watch that overturned conventional thinking and opened up new frontiers of toughness, announces a magnificent new model, embellished with lustrous red gold accents, that will captivate wearers' hearts like no other. Constructed of titanium 6-4, an alloy harder than pure titanium, and hardened further with titanium-carbide processing, the bezel exhibits both dignity and power.
The case's platinum coloring, embodying the strength and beauty of metal, is set off by lustrous red gold accents to engender the quality feel of armor and copper craftsmanship. The result is original styling reminiscent of traditional functional beauty.
Close attention has been paid to every detail, as seen in the application of black DLC (diamond-like carbon) processing to the button at 2 o'clock and the button and ring at 4 o'clock. Accurate timekeeping is assured, moreover, by a GPS HYBRID radio-controlled solar-powered system that corrects the time anywhere on Earth. In pursuit of toughness, and boasting "Made in Japan� quality, a new MR-G greets the world.
Dimensions: 52.2 Ă— 46.2 Ă— 14.6 mm / Weight: 131 g
Returns will only be accepted if product is in original packaging and protectant film is in place.
Features
GPS Hybrid Radio-Controlled time sync
Specifications
Date and day of the week display
Full Auto Calendar
LED Light (Super Illuminator, with afterglow function)
Shock Resistant
200m Water Resistant
GPS HYPRID Wave Ceptor
Anti-reflective coating sapphire glass
DLC treatment + deep curing process
Screw lock crown