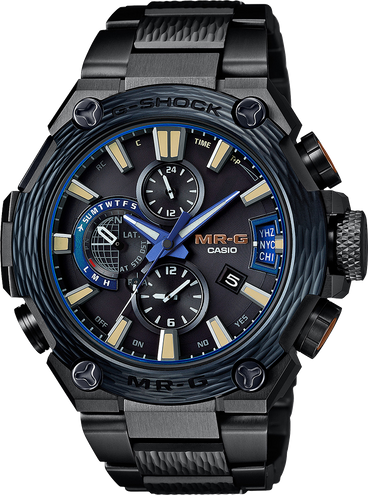 MRGG2000HT-1A
$8000.00
Japan's proud advanced technologies and traditional technical skills merge in the MRG-G2000HT. Its ability to receive standard time radio waves, GPS satellite signals and Bluetooth® transmissions enables it to acquire accurate time information in any location on Earth under virtually any conditions. Metal exterior surfaces are finished with a traditional kasumi-tsuchime hammering technique. And Japan Blue indigo, a representative colour in Japanese traditional craftsmanship, is applied with blue DLC coating. The true staying power of traditional beauty is embodied in this 500-piece numbered limited edition model of MR-G, the flagship series in the G-SHOCK line.
The external surface of the MRG-G2000HT is patterned by bold but delicate strokes of craftsmen's hands applying traditional kasumi-tsuchime metal hammering. This forging technique, in which metal is pounded with a hammer, has long been used to form robust metal products such as armour and copperware. The technique has been passed down to modern times by skilled masters of the craft through a history of over 1,200 years.
Features
GPS Hybrid Radio-Controlled time sync

Bluetooth smartphone link
Specifications
World TIme: 39 cities (39 time zones, daylight saving on/off) and Coordinated Universal Time: auto summertime (DST) switching
May be updated when connected to a smartphone.
Stopwatch: 1/1-second stopwatch; measuring capacity: 24 minutes; elapsed time
Shock resistant
200m water resistance
Tough Solar
GPS Signal Reception
Time-calibration (auto, manual); acquisition of position information (manual)
GPS signals are received automatically when the watch recognizes they are available in the area.