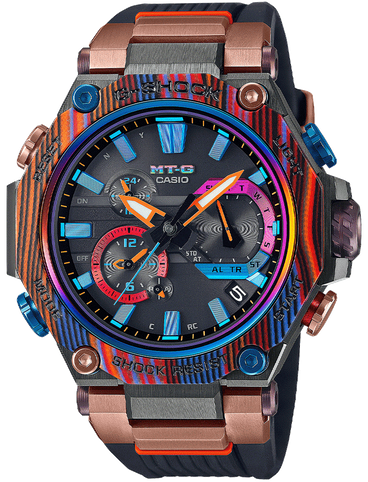 MTGB2000XMG1
$1150.00
Introducing multicolor styling — rugged toughness crafted where metal, carbon, and resin meet.
The special edition MTGB2000XMG1A is designed for maximum impact and is reminiscent of the stunning coloration of areas such as Antelope Canyon where light from above the canyon reflects majestically off the sandstone as it makes its way to the canyon floor. The multicolor bezel is made of carbon-reinforced resin forged from laminated sheets of carbon and glass fiber. The rugged strength of carbon and glass fiber and the random patterns created when the bezel is cut deliver strong, yet lightweight, one-of-a-kind timepieces, each with its own unique color pattern.
The multicolor carbon bezel, rainbow ion-plated bezel ring, rose gold ion plating, and band in translucent blue come together to reproduce the oxidation of minerals deposited by volcanic activity and tectonic shifts in all its stunning earthy artistry.
Features
Tough Solar Power

Tough Solar ensures stable operation while using power-hungry functions
Specifications
29 months on rechargeable battery (operation period when stored in total darkness with the power save function on after full charge)
Size of case : 55.1×49.8×15.9mm
Total weight : 121g
Case / bezel material: Resin / Stainless steel
Resin Band
Spherical Glass
Carbon monocoque case
Carbon Core Guard structure
Screw Lock Crown