High-End Fashion Meets Innovative Functionality With New Casio G-SHOCK Timepieces
FOR IMMEDIATE RELEASE: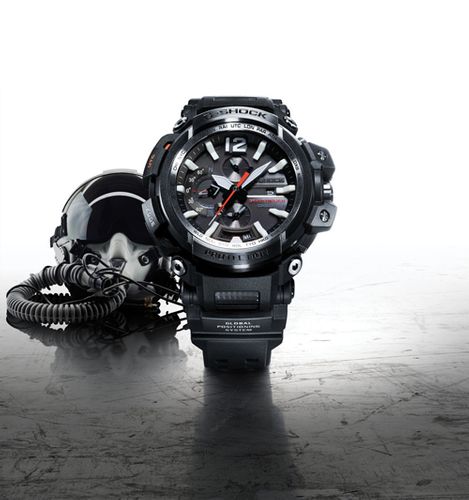 High-End Fashion Meets Innovative Functionality With New Casio G-SHOCK Timepieces
Latest Offerings Elevate Wearable Technology Trend
DOVER, NJ, May 11, 2017
-Casio
G-SHOCK
has built its brand on offering consumers tough, tactical timepieces that never sacrifice comfort or style. Two of the brand's latest models, the MRGG1000B-1A and
GPW2000-1A
provide the fashion and sophistication that consumers desire coupled with the functionality they need. According to the Forrester Research 2016 Tech Survey, 50% of 4,500 US consumers said current wearable models do not meet their aesthetic criteria. Consumers desire style, fit and functionality in one device, and G-SHOCK's latest timepieces offer the perfect intersection of design and technology. Additionally, the Accenture Digital Tech Consumer Survey reported that 52% of customers are interested in buying wearable technology devices, while the Nielsen Connected Life Report 2015 also reported that 53% of shoppers want their wearables to look more like jewelry. By delivering watches that meet both criteria, G-SHOCK is able to give the explorers and adventurers of the world technologically advanced timepieces that satisfy any tactical and style demands. Recently announced product highlights, which offer both fashion and functionality, include:
G-SHOCK MRGG1000B-1A
The latest addition to G-SHOCKu2019s luxury menu2019s
MR-G line
, the MRGG1000B-1A, is a special timepiece inspired by the red Akazonae coloring that once symbolized rank and valor amongst traditional Japanese military commanders. A black titanium bezel and band, with red lettering and gold IP accents give this MR-G an ultra-refined look with the toughness for which G-SHOCK is known. The model also features a titanium case and band that undergo a special deep hardening treatment that renders the metal five times harder than regular titanium as well as a diamond-like carbon coating and sapphire glass crystal which provide outstanding scratch resistance and durability. Equipped with GPS capabilities as well as G-SHOCK's Multi-Band 6, the watch offers GPS Hybrid Atomic Timekeeping technology which provides accurate timekeeping virtually anywhere on the globe, ensured by receiving GPS satellite signals or terrestrial radio signals from up to six transmitters worldwide, depending on location and environment. Tough Solar technology also ensures stable operation even when using power-hungry functions. The MRGG1000B-1A retails for $3,000 and is available for purchase now at key jewelers and the
G-SHOCK Soho Store.
G-SHOCK GRAVITYMASTER GPW2000-1A
The first-ever Bluetooth connected model in the
Master of G series
, the
GRAVITYMASTER
,
GPW2000-1A
is built specifically for aviation experts and features connected GPS capabilities including Mission Stamp u2013 a function that will record time and location, transmitting the information via Bluetooth to a special Smartphone Link app, which can then be viewed in a flight log. The new model also contains a longitude indicator in addition to a latitude indicator u2013 adding a key function to record travel location and history for pilots carrying out their missions. Other premium features include a sapphire crystal for minimal scratching, carbon fiber second hand, carbon fiber insert band and a unique carbon band lock insert, which prevents loosening due to heavy vibrations. In addition, the GPW2000-1A features triple time adjust made possible via Bluetooth Connectivity and G-SHOCK's GPS Hybrid Wave Ceptor
technology
, providing accurate timekeeping virtually anywhere, ensured by receiving GPS satellite signals or terrestrial radio signals from up to six transmitters worldwide, depending on location and environment. The GPW2000-1A will retail for $800 beginning in May 2017.
About G-SHOCK
CASIO's shock-resistant G-SHOCK watch is synonymous with toughness, born from the developer Mr. Ibe's dream of 'creating a watch that never breaks'. Over 200 handmade samples were created and tested to destruction until finally in 1983 the first, now iconic G-SHOCK hit the streets of Japan and began to establish itself as 'the toughest watch of all time'. Each watch encompasses the 7 elements; electric shock resistance, gravity resistance, low temperature resistance, vibration resistance, water resistance, shock resistance and toughness. The watch is packed with Casio innovations and technologies to prevent it from suffering direct shock; this includes internal components protected with urethane and suspended timekeeping modules inside the watch structure. Since its launch, G-SHOCK has continued to evolve, continuing to support on Mr. Ibe's mantra "never, never give up." www.gshock.com.
About Casio America, Inc.
Casio America, Inc., Dover, N.J., is the U.S. subsidiary of Casio Computer Co., Ltd., Tokyo, Japan, one of the world's leading manufacturers of consumer electronics and business equipment solutions. Established in 1957, Casio America, Inc. markets calculators, keyboards, mobile presentation devices, disc title and label printers, watches, cash registers and other consumer electronic products. Casio has strived to realize its corporate creed of "creativity and contribution" through the introduction of innovative and imaginative products. For more information, visit www.casio.com.