G-SHOCK Partners With Chari & Co For Limited Edition Collaboration Watch
FOR IMMEDIATE RELEASE: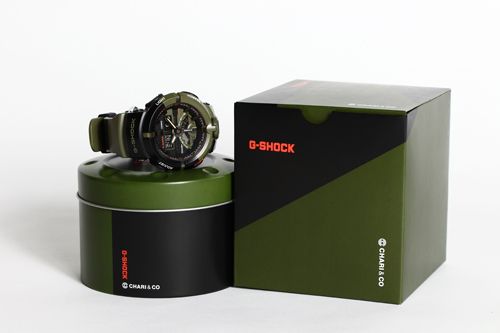 G-SHOCK PARTNERS WITH CHARI & CO FOR LIMITED EDITION COLLABORATION WATCH
GA500 Collaboration Model Nods to Tough Bicycle Design
DOVER, NJ, February 2, 2017
-Today, Casio
G-SHOCK
announces its first-ever collaboration with bike shop turned international street style and cycling brand, Chari & Co, on a limited edition men's GA500 watch. Located in the heart of the Lower East Side in New York City, Chari & Co is an internationally recognized brand, known for their stylish and durable urban apparel, accessories, and cycling goods. The GA500K watch will be the first collaboration between the two brands, both of which share a Japanese heritage and a commitment to delivering on toughness. On the significance of this exciting collaboration, professional cyclist and Chari & Co ambassador John Kniesly a.k.a. K-tel states, "It's really fascinating to be a part of a collaboration between G-SHOCK, a company whose product brings to mind style, dependability, and durability, and Chari and Co, whose roots are at the center of a culture where those qualities are of huge importance. The design of the watch itself is directly inspired by the bike frame, the focal point of any bicycle. A good bike frame needs to be built with precision and accuracy, and the G-SHOCK is known for its precise time-keeping. The two exist on the same level." The design of the GA500K limited edition watch is inspired by the three main components of a bicycle, forming a triangular geometric pattern in shades of black and olive. This motif has been previously featured in Chari & Co racing apparel. A newer case design for G-SHOCK, the GA500 model features a wider face, with a retrograde second hand for the stopwatch and countdown timer. The GA500K comes equipped with legendary G-SHOCK structure of
Shock Resistance
and 200M Water Resistance, a LED Light, 48-city World Time, 5 Daily Alarms, a Retrograde 1/100th-second Stopwatch with Target Time Alert, Countdown Timer, as well as a unique Hand Retract Function which shifts the analog hands away from the digital display during timing measurements. All this in a 48.9mm case. The GA500K will retail for $190 and will be available for purchase beginning in February 2017 at the Chari & Co NYC storefront, as well as
gshock.com
, and the
G-SHOCK Soho Store
About G-SHOCK
CASIO's shock-resistant G-SHOCK watch is synonymous with toughness, born from the developer Mr. Ibe's dream of 'creating a watch that never breaks'. Over 200 handmade samples were created and tested to destruction until finally in 1983 the first, now iconic G-SHOCK hit the streets of Japan and began to establish itself as 'the toughest watch of all time'. Each watch encompasses the 7 elements; electric shock resistance, gravity resistance, low temperature resistance, vibration resistance, water resistance, shock resistance and toughness. The watch is packed with Casio innovations and technologies to prevent it from suffering direct shock; this includes internal components protected with urethane and suspended timekeeping modules inside the watch structure. Since its launch, G-SHOCK has continued to evolve, continuing to support on Mr. Ibe's mantra "never, never give up." www.gshock.com.
About Casio America, Inc.
Casio America, Inc., Dover, N.J., is the U.S. subsidiary of Casio Computer Co., Ltd., Tokyo, Japan, one of the world's leading manufacturers of consumer electronics and business equipment solutions. Established in 1957, Casio America, Inc. markets calculators, keyboards, mobile presentation devices, disc title and label printers, watches, cash registers and other consumer electronic products. Casio has strived to realize its corporate creed of "creativity and contribution" through the introduction of innovative and imaginative products. For more information, visit www.casio.com.
About Chari & Co
Located on the Lower East Side of New York City.
The bicycle shop CHARI&CO attracts not only competitive riders, but also artists and skaters, giving rise to a free atmosphere. New York is a chaotic and messy place, but you never get bored riding through the streets here. Back in the day, there were many places for street culture heads to meet up. Unfortunately, there are not so many today.
CHARI&CO's backyard fills the gap, serving as a hangout spot for riders, artists, skaters, and even neighborhood kids. The voices and personalities that come together in this space form the foundation of our brand.