Casio G-SHOCK Unveils Men's Clean Military Series
FOR IMMEDIATE RELEASE: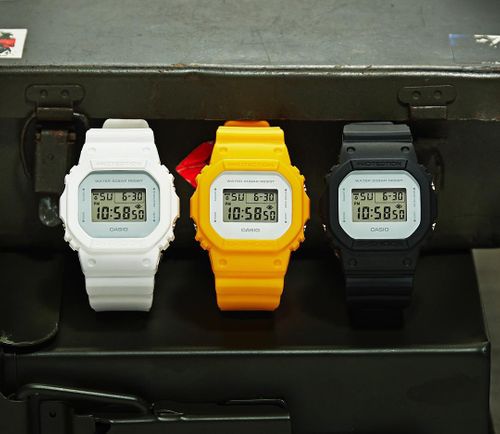 CASIO G-SHOCK UNVEILS MEN'S CLEAN MILITARY SERIES
Vintage-Inspired Models Feature New Shades for Spring Season
DOVER, NJ, April 18, 2017
-Today, Casio
G-SHOCK
announces the Clean Military Series with new models based on the iconic G-SHOCK DW5600. A fresh take to G-SHOCK's vintage-inspired men's timepieces, the new, versatile collection complements any spring wardrobe. With nods to the trend of a monochromatic look, DW5600LCU-1 in black and DW5600CU-7 in white are a classic addition to any look. DW5600CU-9, a bright yellow, brings the perfect pop of color to your summer apparel. Representing the best and most durable of G-SHOCK watches through its resin case, minimal face design, and other resilient features, the DW5600LCU and DW5600CU models boast a multi-function alarm and flash alert function in a 42.8mm case. Each model in the series also comes equipped with
G-SHOCK's legendary shock resistance
and 200M water resistant structure, as well as an EL backlight, 1/100th second stopwatch, a countdown timer, and 12/24 time formats. The DW5600LCU-1, DW5600CU-7, and DW5600CU-9 retail for $99 beginning in May 2017, and will be available for purchase at select
fashion apparel and department stores
.
About G-SHOCK
CASIO's shock-resistant G-SHOCK watch is synonymous with toughness, born from the developer Mr. Ibe's dream of 'creating a watch that never breaks'. Over 200 handmade samples were created and tested to destruction until finally in 1983 the first, now iconic G-SHOCK hit the streets of Japan and began to establish itself as 'the toughest watch of all time'. Each watch encompasses the 7 elements; electric shock resistance, gravity resistance, low temperature resistance, vibration resistance, water resistance, shock resistance and toughness. The watch is packed with Casio innovations and technologies to prevent it from suffering direct shock; this includes internal components protected with urethane and suspended timekeeping modules inside the watch structure. Since its launch, G-SHOCK has continued to evolve, continuing to support on Mr. Ibe's mantra "never, never give up." www.gshock.com.
About Casio America, Inc.
Casio America, Inc., Dover, N.J., is the U.S. subsidiary of Casio Computer Co., Ltd., Tokyo, Japan, one of the world's leading manufacturers of consumer electronics and business equipment solutions. Established in 1957, Casio America, Inc. markets calculators, keyboards, mobile presentation devices, disc title and label printers, watches, cash registers and other consumer electronic products. Casio has strived to realize its corporate creed of "creativity and contribution" through the introduction of innovative and imaginative products. For more information, visit www.casio.com.