Casio G-SHOCK Unveils Collaboration Model With World-Renowed Jazz Label, Blue Note Records
FOR IMMEDIATE RELEASE: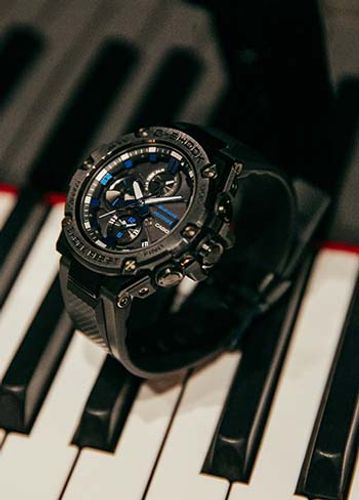 GSTB100BNR-1A
CASIO G-SHOCK UNVEILS COLLABORATION MODEL WITH WORLD-RENOWNED JAZZ LABEL, BLUE NOTE RECORDS
New Model Features Sleek All-Black Look with Blue Accents to Celebrate Label's 80th Anniversary
DOVER, NEW JERSEY, February 20, 2019
- Today, Casio
G-SHOCK
unveils a limited-edition men's watch made in collaboration with the legendary Jazz label, Blue Note Records. Created to honor Blue Note's 80th anniversary, the latest model is an updated take on G-SHOCK's popular G-STEEL line of men's high-end timepieces and arrives in a sleek black colorway with blue accents on the dial, and buckle, as well as an IP case back, button and band keeper. The watch comes with custom limited-edition packaging.
Boasting the classic G-STEEL look, the GSTB100BNR-1A combines refined style with durability and practicality. The unique timepiece nods to both iconic brands by featuring bright blue accents and engravings of the G-SHOCK and Blue Note logos.
"Blue Note and G-SHOCK have a history of refinement and shifting culture," said Don Was, President of Blue Note Records. "We felt G-SHOCK was the right partner to help us celebrate our 80th anniversary while we usher in a new era at the label. It's about bringing our audiences together and giving them something they can love, whether they're a Jazz aficionado or a hip-hop lover."
A video was created to celebrate the launch of the new G-SHOCK x Blue Note Records timepiece, starring Blue Note artists Charles Lloyd, Kendrick Scott, and lophiile. Watch here:
https://bluenote.lnk.to/BLUENOTExG-SHOCK-video
.
Additionally, you can stream the playlist
Daddy Kev's Blue Note X G-SHOCK Mix
that was inspired by the collaboration.
The GSTB100BNR-1A not only provides an upscale look, but it also comes equipped with several of G-SHOCK's most sought-after features including solar-powered charging capabilities, a super LED light and Neo-Brite luminous hands for maximum visibility. Additionally, the GSTB100BNR-1A boasts Bluetooth low energy technology to pair with smart phones via the G-SHOCK Connected App.
The new model also comes equipped with G-SHOCK technology such as:
200M water resistance
Shock resistance
World time/ dual time display
1/100th Sec. Stopwatch
Countdown Timer
Daily alarm

The limited-edition GSTB100BNR-1A will retail for $420 and will be available for purchase starting this March at select jewelers, fashion boutiques, the G-SHOCK Soho Store and gshock.com.

About G-SHOCK
CASIO's shock-resistant G-SHOCK watch is synonymous with toughness, born from the developer Mr. Ibe's dream of 'creating a watch that never breaks'. Over 200 handmade samples were created and tested to destruction until finally in 1983 the first, now iconic G-SHOCK hit the streets of Japan and began to establish itself as 'the toughest watch of all time'. Each watch encompasses the 7 elements; electric shock resistance, gravity resistance, low temperature resistance, vibration resistance, water resistance, shock resistance and toughness. The watch is packed with Casio innovations and technologies to prevent it from suffering direct shock; this includes internal components protected with urethane and suspended timekeeping modules inside the watch structure. Since its launch, G-SHOCK has continued to evolve, continuing to support on Mr. Ibe's mantra "never, never give up." www.gshock.com.


About Casio America, Inc.
Casio America, Inc., Dover, N.J., is the U.S. subsidiary of Casio Computer Co., Ltd., Tokyo, Japan, one of the world's leading manufacturers of consumer electronics and business equipment solutions. Established in 1957, Casio America, Inc. markets calculators, keyboards, mobile presentation devices, disc title and label printers, watches, cash registers and other consumer electronic products. Casio has strived to realize its corporate creed of "creativity and contribution" through the introduction of innovative and imaginative products. For more information, visit www.casio.com.
About Blue Note Records
Blue Note Records was founded when a German immigrant named Alfred Lion produced his first recording session with two boogie woogie pianists on January 6, 1939 in New York City. Blue Note has gone on to represent The Finest In Jazz, tracing the entire history of the music from Boogie Woogie, Hot Jazz and Swing, through Bebop, Hard Bop, Post Bop, Soul Jazz, Avant-Garde, and Fusion, and into Jazz's numerous modern day incarnations. Blue Note's legendary catalog includes a true Who's Who of Jazz history: Thelonious Monk, Bud Powell, Miles Davis, John Coltrane, Cannonball Adderley, Horace Silver, Art Blakey, Jimmy Smith, Dexter Gordon, Grant Green, Lou Donaldson, Donald Byrd, Lee Morgan, Freddie Hubbard, Joe Henderson, Herbie Hancock, Wayne Shorter, McCoy Tyner, Ornette Coleman, and many more.
Blue Note has since established itself as the most respected and longest running Jazz label in the world, remaining home to some of the most prominent stars and cutting-edge innovators in Jazz today while at the same time broadening its horizons to include quality music in many genres. Under the leadership of current President Don Was, Blue Note has renewed its dedication to Lion's original vision that "any particular style of playing which represents an authentic way of musical feeling is genuine expression." Lion's words still ring true and provide a blueprint that includes Robert Glasper's visionary melding of Jazz, R&B, and Hip-Hop; eclectic singers from Norah Jones to Gregory Porter to Kandace Springs; and the full spectrum of instrumental Jazz artists from legends like Wayne Shorter, Charles Lloyd, and Dr. Lonnie Smith to future legends including Ambrose Akinmusire, James Francies, and Joel Ross. Blue Note Records is one of the flagship labels of the Capitol Music Group and Universal Music Group.