Casio G-SHOCK Partners With The Hundreds On New 35th Anniversary Collaboration Timepiece
FOR IMMEDIATE RELEASE: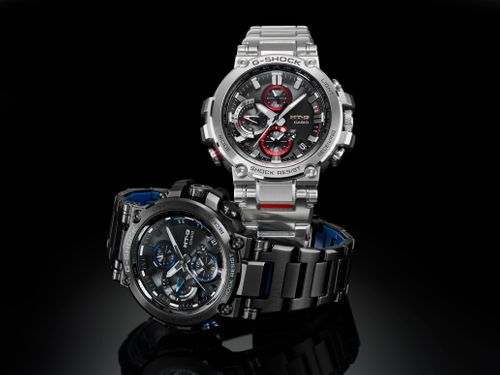 CASIO G-SHOCK PARTNERS WITH THE HUNDREDS ON NEW 35TH ANNIVERSARY COLLABORATION TIMEPIECE
First Available Exclusively at ComplexCon, Custom Design Elements Nod to Both Brands' Anniversaries
DOVER, NEW JERSEY, OCTOBER 30, 2018
- Today, Casio
G-SHOCK
announces their second collaboration model in partnership with international streetwear brand The Hundreds – available first exclusively at ComplexCon this weekend. In celebration of G-SHOCK's 35th anniversary, as well as The Hundred's 15th anniversary, the men's timepiece features an updated DW5600 case in a matte-black color way. With The Hundreds' signature red, yellow and black color way dynamically positioned on the face, the new model also features their brand ethos of "Blood Sweat & Years" on the watch strap./p>
Following a previous collaboration between the two fashion entities in 2012, the DW5600HDR-1 model nods to
G-SHOCK's original timepiece
with a classic square face and compellingly simple yet distinctive design, as well as The Hundreds' two signature logos on the strap and on the case back.
u201cSince we aspire to have a timeless brand, in handpicking our collaborators we seek out partners with classic legacies,u201d said Bobby Hundreds, founder of The Hundreds. u201cCasio G-SHOCK is a heritage player, having maintained relevance through design and quality over generations. When The Hundreds works with G-SHOCK, we're not just making a watch, we are bridging our histories: A timepiece that stands the test of time.u201d
The Hundreds, a streetwear brand founded in Los Angeles in 2003, was inspired by California's punk, hip-hop, skateboarding and surfing culture. Its products are now sold worldwide and have expanded to include eyewear.
A video was created to showcase the new timepiece. Take a look:
https://bit.ly/gshxhrd
.
The DW5600HDR-1 will first be showcased at ComplexCon, a one-of-a-kind street culture festival in LA that is bringing together the top brands across pop culture, music, art, food, style, sports, innovation, activism, and education. The festival is taking place on November 3 and 4 in Long Beach, California.
In addition to a black IP case back, the DW5600HDR-1 timepiece also comes equipped with G-SHOCK technology including:
200M water resistance and shock resistance
El backlight
Flash Alert
Multi-function alarm
Hourly time signal
Stopwatch and countdown timer
48.9 mm case

The DW5600HDR-1 will retail for $160 and will be available for purchase exclusively at the G-SHOCK booth at ComplexCon from November 3 – 4, with a global release date of November 9 at select fashion boutiques, Macy's, and gshock.com. About G-SHOCK
CASIO's shock-resistant G-SHOCK watch is synonymous with toughness, born from the developer Mr. Ibe's dream of 'creating a watch that never breaks'. Over 200 handmade samples were created and tested to destruction until finally in 1983 the first, now iconic G-SHOCK hit the streets of Japan and began to establish itself as 'the toughest watch of all time'. Each watch encompasses the 7 elements; electric shock resistance, gravity resistance, low temperature resistance, vibration resistance, water resistance, shock resistance and toughness. The watch is packed with Casio innovations and technologies to prevent it from suffering direct shock; this includes internal components protected with urethane and suspended timekeeping modules inside the watch structure. Since its launch, G-SHOCK has continued to evolve, continuing to support on Mr. Ibe's mantra "never, never give up." www.gshock.com.
About Casio America, Inc.
Casio America, Inc., Dover, N.J., is the U.S. subsidiary of Casio Computer Co., Ltd., Tokyo, Japan, one of the world's leading manufacturers of consumer electronics and business equipment solutions. Established in 1957, Casio America, Inc. markets calculators, keyboards, mobile presentation devices, disc title and label printers, watches, cash registers and other consumer electronic products. Casio has strived to realize its corporate creed of "creativity and contribution" through the introduction of innovative and imaginative products. For more information, visit www.casio.com.