Casio G-SHOCK Partners With Legendary Graffiti Artist STASH On Limited Edition Collaboration Watch
FOR IMMEDIATE RELEASE: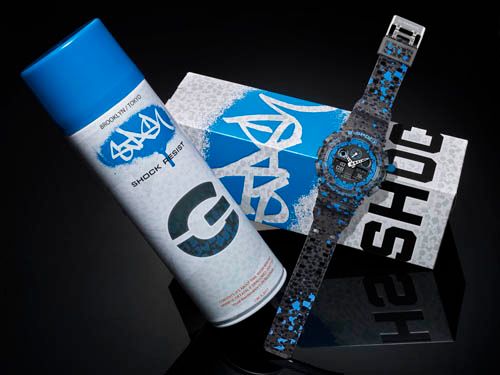 CASIO G-SHOCK PARTNERS WITH LEGENDARY GRAFFITI ARTIST STASH ON LIMITED EDITION COLLABORATION WATCH
New GA100 Model Features Original Splash Pattern and Unique Spray Can Packaging
DOVER, NJ, April 25, 2017
-Today, Casio
G-SHOCK
announces the brand's watch collaboration with legendary New York street artist, STASH. The limited edition model boasts a black on black print of aerosol caps on the band and case over which a blue splash pattern was applied, designed exclusively for G-SHOCK by STASH. The GA100ST-2A will also come with a one-of-a-kind spray can packaging featuring STASH's unique logo. An avid G-SHOCK fan since the late 1980s, STASH will breathe new life into his signature graffiti design through this first-ever partnership with G-SHOCK. u201cThe community embraced G-SHOCK way early on because of the style, the ruggedness,u201d said STASH. u201cThey started in the early 80's so they have a history and a legacy that has always resonated deeply with me.u201d Available on May 4th, 2017, the watch will be exclusively sold in CONCEPTS, a premium lifestyle boutique heralded for their collaborative products and curation with brands like Nike, Adidas, New Balance and Canada Goose. "CONCEPTS is proud to provide our long-time friend and collaborator, STASH with a blank canvas to present his newest endeavor with G-SHOCK," said Deon Point, Creative Director for Concepts. "STASH and G-SHOCK are both heritage staples in our industry and will continue to create important products for years to come." The GA100ST-2A comes
equipped
with G-SHOCK's renowned shock resistant and 200M water resistant structure, as well as magnetic resistance, an auto LED light, world time (48 cities + UTC), 4 daily alarms and 1 snooze, 1/1000 second stopwatch, a speed indicator, countdown timer, and 12/24 hour formats – all in a 51.2mm case. The GA100ST-2A will retail for $170 and will be available for purchase at CONCEPTS NYC and Boston store locations May 4th-5th, before its global release on May 6th. For the launch of the new G-SHOCK x STASH timepiece, a video was created to showcase the versatility of the watch. Take a look:
http://bit.ly/GSHOCKStash
About G-SHOCK
CASIO's shock-resistant G-SHOCK watch is synonymous with toughness, born from the developer Mr. Ibe's dream of 'creating a watch that never breaks'. Over 200 handmade samples were created and tested to destruction until finally in 1983 the first, now iconic G-SHOCK hit the streets of Japan and began to establish itself as 'the toughest watch of all time'. Each watch encompasses the 7 elements; electric shock resistance, gravity resistance, low temperature resistance, vibration resistance, water resistance, shock resistance and toughness. The watch is packed with Casio innovations and technologies to prevent it from suffering direct shock; this includes internal components protected with urethane and suspended timekeeping modules inside the watch structure. Since its launch, G-SHOCK has continued to evolve, continuing to support on Mr. Ibe's mantra "never, never give up." www.gshock.com.
About Casio America, Inc.
Casio America, Inc., Dover, N.J., is the U.S. subsidiary of Casio Computer Co., Ltd., Tokyo, Japan, one of the world's leading manufacturers of consumer electronics and business equipment solutions. Established in 1957, Casio America, Inc. markets calculators, keyboards, mobile presentation devices, disc title and label printers, watches, cash registers and other consumer electronic products. Casio has strived to realize its corporate creed of "creativity and contribution" through the introduction of innovative and imaginative products. For more information, visit www.casio.com.
About Stash
Stash was born in Long Island, New York in 1967. He is considered one of New York's graffiti legends, pivotal to the East Village scene of the early 1980's. He exhibited his first canvases alongside popart pioneers Keith Haring and Jean-Michael Basquiat when he was only 17. While his contemporaries turned to Pop Art, Stash stayed true to the subway, working on trains until 1987 when he created his last underground piece alongside Zephyr. His early works on canvas demonstrate a loyalty to his early career in the use of subway mapcollages and signature bold outlines and clean shapes. By the late 1990's, Stash had pioneered the use of graphic elements of graffiti on streetwear through high-profile collaborations with companies such as Nike, Burton , Medicom toy and A Bathing Ape. The move ensured his work reached a much wider audience than the gallery visitor and played a key role in the widespread understanding of and eventual public acceptance of graffiti. Stash is now widely regarded as an innovator in the world of urban design. His fascination with the urban environment is evident in his perfectly executed photographic work, which features a combination of city motifs alongside the latest lighting and printing techniques.
About Concepts
Concepts opened its first store in 1996 in Harvard Square in Cambridge, Massachusetts. From our early beginnings in footwear, street and skate culture, Concepts has sought to develop an original and diverse point of view as original retail curators.Through retailing emergent products from opinion leading brands and collaborating with the largest names in sneakers and clothing, we've continued to push the Concepts brand globally. Surpassing 20 years in business, Concepts now has flagships in Dubai and New York City, and continues to be a leading presence among boutique retailers.