Casio G-SHOCK Introduces New Timepieces To Men's G-SHOCK Carbon Series
FOR IMMEDIATE RELEASE: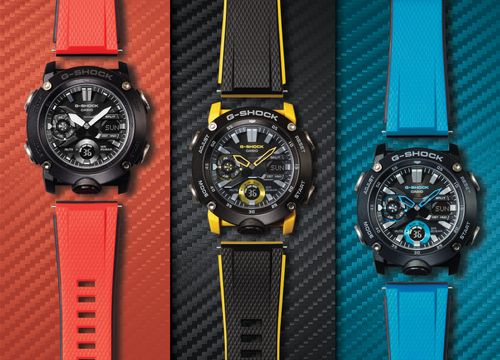 CASIO G-SHOCK INTRODUCES NEW TIMEPIECES TO MEN'S G-SHOCK CARBON SERIES
All-New Models Feature the Latest Carbon Core Guard Technology and Range of Interchangeable Bands
DOVER, NEW JERSEY, MARCH 28, 2019
— Today, Casio
G-SHOCK
unveils the latest models of its G-SHOCK Carbon series. Joining G-SHOCK's lineup of men's
GA2000
timepieces, the four new watches arrive in an updated, Carbon Core Guard Structure that provides unparalleled toughness in a lightweight case. The eye-catching new watches are available in a variety of bright hues including a yellow (GA2000-1A9), bright blue (GA2000-1A2) and red (GA2000E-4). Additionally, colorways inspired by the military and outdoors will be available including navy (GA2000-2A), olive green (GA2000-3A), and khaki (GA2000-5A).
Designed with a nod to both urban and outdoor lifestyles, the latest G-SHOCK Carbon models are built to withstand any and all activities and are made for men that enjoy city life as much as the great outdoors. The Carbon Core Guard is comprised of a carbon fiber reinforced resin case that is combined with large stainless-steel buttons and a thin case back, giving the GA2000 Series an overall functional and lightweight feel. The timepieces also feature unique interchangeable bands making it easy for watch wearers to adapt to any activity or customize their look depending on their personal style.
The GA2000-2A, which first debuted at last week's
Baselworld 2019
, arrives in a utility colors inspired by the military and great outdoors along with GA2000-3A and GA2000-5A. The versatile model also includes the series' bi-color resin band with the option to swap for bands made of traditional resin, Velcro, Cordura®, or cloth.
The GA2000-1A9 and GA2000-1A2, available in the series' bright, bi-color resin bands, offer a statement pop of color, but can also be used with a more traditional Velcro, Cordura®, and cloth band, similar to the other models from the series.
The limited-edition, GA2000E-4, arrives in a vivid red resin brand and is packaged with two additional bands, including a black resin and green cloth.
Equipped with the GA Series' top line capabilities, the models each include raised dial markers and light-colored hands, with pops of bright features throughout, making for easy to read features in dark lighting.
The new model also comes equipped with G-SHOCK technology such as:
200M water resistance
Shock resistance
Super LED light
World time (31TZ / 48 cities)
1/100th sec. stopwatch
Hand retract function
Countdown timer
Full auto calendar
5 daily alarms
The GA2000-1A9 and GA2000-1A2 will each retail for $130 beginning in April, while the GA2000-2A, GA2000-3A, GA2000-5A ($130) and the limited-edition GA2000E-4 ($160) are set to go on sale starting in May. All models will be available at select jewelers, the G-SHOCK Soho Store and
gshock.com.
About G-SHOCK
CASIO's shock-resistant G-SHOCK watch is synonymous with toughness, born from the developer Mr. Ibe's dream of 'creating a watch that never breaks'. Over 200 handmade samples were created and tested to destruction until finally in 1983 the first, now iconic G-SHOCK hit the streets of Japan and began to establish itself as 'the toughest watch of all time'. Each watch encompasses the 7 elements; electric shock resistance, gravity resistance, low temperature resistance, vibration resistance, water resistance, shock resistance and toughness. The watch is packed with Casio innovations and technologies to prevent it from suffering direct shock; this includes internal components protected with urethane and suspended timekeeping modules inside the watch structure. Since its launch, G-SHOCK has continued to evolve, continuing to support on Mr. Ibe's mantra "never, never give up." www.gshock.com.
About Casio America, Inc.
Casio America, Inc., Dover, N.J., is the U.S. subsidiary of Casio Computer Co., Ltd., Tokyo, Japan, one of the world's leading manufacturers of consumer electronics and business equipment solutions. Established in 1957, Casio America, Inc. markets calculators, keyboards, mobile presentation devices, disc title and label printers, watches, cash registers and other consumer electronic products. Casio has strived to realize its corporate creed of "creativity and contribution" through the introduction of innovative and imaginative products. For more information, visit www.casio.com.