Casio G-SHOCK Announces Pre-Order Of Its Limited-Edition 18K Pure Gold Watch
FOR IMMEDIATE RELEASE: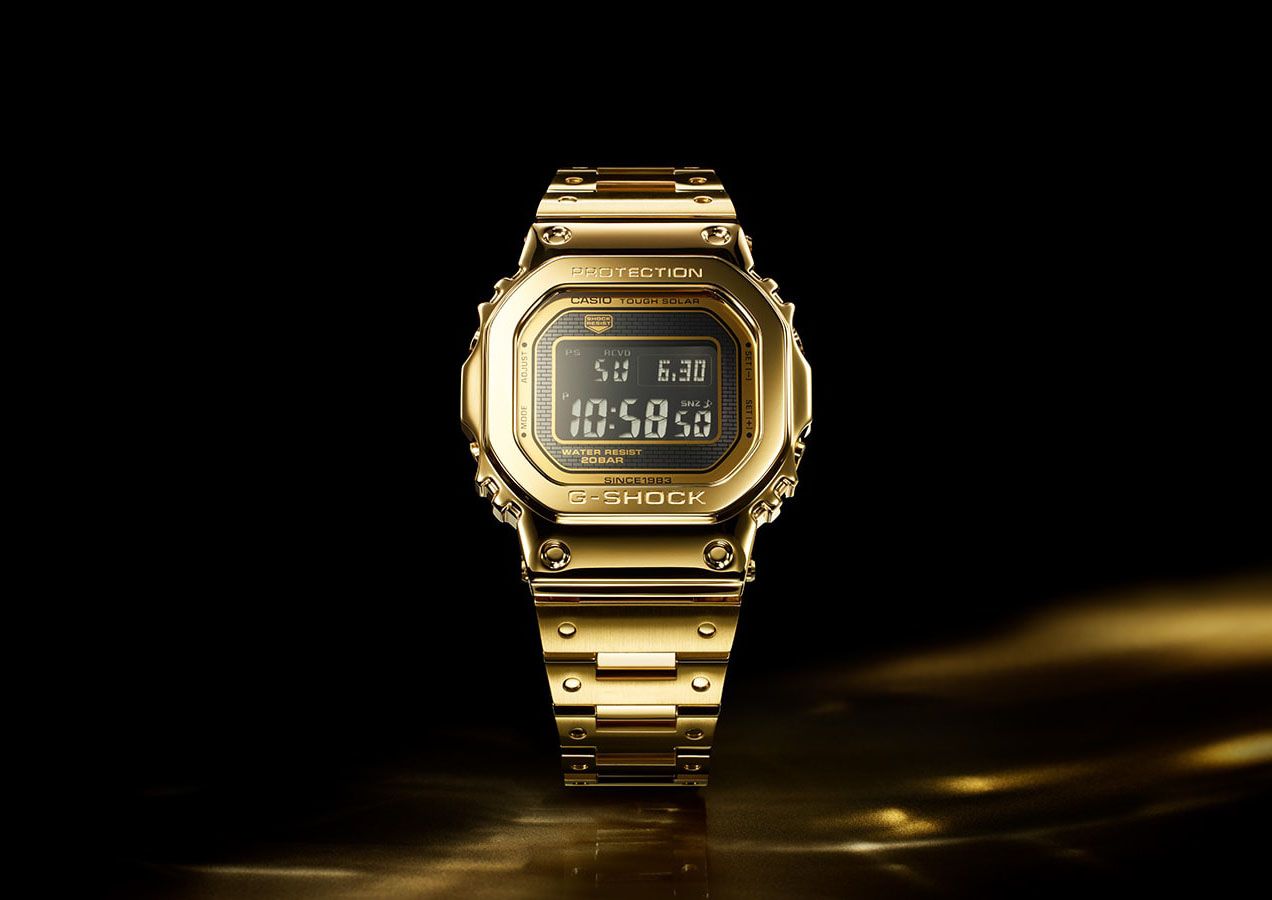 CASIO G-SHOCK ANNOUNCES PRE-ORDER OF ITS LIMITED-EDITION 18K PURE GOLD WATCH
35 Timepieces to be Produced Globally, With Two Available in the United States
DOVER, NEW JERSEY, MAY 31, 2019
— Today, Casio
G-SHOCK
announces the upcoming release of its limited-edition 18K Pure Gold timepiece. The GD5000-9JR was originally concepted as a dream project with no formal launch plan but was quickly put into production following public demand.
With 35 pieces available globally, two of which will be in the United States, the new model has an MSRP of $70,000 USD and showcases the absolute toughness G-SHOCK is known for, with an all-new, 18K Pure Gold case, bezel, bracelet, and screws.
Featuring G-SHOCK's iconic square case and shock resistant structure, the new model will be the brand's most luxurious timepiece in its over 35-year history and its most expensive watch to date.
For those interested in purchasing one of the limited-edition watches, G-SHOCK has partnered with select high-end authorized jewelers across the country to organize a Promotion. Participating jewelers include: Feldmar Watch Company – Los Angeles, CA, Hamilton Jewelers – Palm Beach, FL, Hyde Park Jewelers – Denver, CO, James Free Jewelers – Dayton, OH, Tapper's Fine Jewelry – West Bloomfield, MI, Timeless Luxury – Plano, TX, Topper Fine Jewelers – Burlingame, CA, and Tourneau – New York, NY.
Now through May 31, 2019, customers will have the chance to enter the promotion. In June, two lucky winners will be selected at random and receive the opportunity to purchase this remarkable timepiece.
The new model comes equipped with standard G-SHOCK technology such as:
Shock resistance
200-meter water resistance
Multi-band 6
Tough Solar
LED back light
5 set daily alarm
Stopwatch
24 hour timer
Full auto calendar
World time
The GD5000-9JR will retail for $70,000 USD and will be available for pre-order from May 15th – 31st 2019. Shipment of these limited-edition watches will begin globally in December of 2019 and fulfillment will be completed by November 2021.
Additional information regarding the watch concept and specifications can be found at https://world.g-shock.com/asia-mea/en/products/origin/gold/g-d5000/
OFFICIAL RULES
NO PURCHASE NECESSARY TO ENTER OR WIN. A PURCHASE WILL NOT INCREASE YOUR CHANCES OF WINNING.
The 18K G-SHOCK PROMOTION(the "Promotion") starts on May 15, 2019 at 12:00 a.m. Eastern Time ("ET"), and ends on May 31, 2019 at 11:59 p.m. ET ("Promotion Period").
Please read these Official Rules carefully as they contain important information about how the Promotion will be conducted, including eligibility to enter, deadline dates for entry, and purchase details if selected as a potential winner.
ELIGIBILITY: Promotion is open to legal residents of the fifty (50) United States and the District of Columbia, who are at least 21 years of age and the direct and intended recipients of an invitation from one (1) of the eight (8) participating jewelers outlined below. If you are not invited by a participating jeweler to participate in the Promotion you will not be eligible to enter. Additionally, employees of Casio America, Inc. ("Sponsor"), its subsidiaries, affiliates, promotion and advertising agencies, and members of their immediate family (spouse and parent, children and siblings and their respective spouses, regardless of where they reside) and persons living in the same household, whether or not related, of such employees, are not eligible to enter. Void where prohibited by law. Promotion is subject to all applicable federal, state and local laws.
Participating Jewelers:
Feldmar Watch Company Los Angeles, CA
Hamilton Jewelers Palm Beach, FL
Hyde Park Jewelers Denver, CO
James Free Jewelers Dayton, OH
Tapper's Fine Jewelry West Bloomfild, MI
Timeless Luxury Plano, TX
Topper Fine Jewelers Burlingme, CA
Tourneau New York, NY
HOW TO ENTER: Revision: During the Promotion Period, you may receive a request from a participating jeweler via email, mail, phone or in person asking if you'd like to be entered in the Promotion. If you'd like to enter, follow the instructions outlined by the jeweler to provide or confirm your email address to be included in the Promotion random drawing.
Limit one (1) entry per person using only one (1) email address throughout the Promotion, regardless of the number of jeweler invitations received. You may only use one (1) email address to enter the Promotion. Entries must be received from the jeweler by May 31, 2019 at 11:59 p.m. ET to be considered. Entries generated by script, macro or other automated means or by any means which subvert the entry process are void. Entries received from any person, household, or email address in excess of the stated limitation will be void.
RANDOM DRAWING: Two (2) entries will be selected as the potential Promotion winners in a random drawing from all eligible entries received throughout the Promotion Period on or about June 1, 2019. A maximum of one (1) potential Promotion winner will be selected from any participating jeweler, therefore once the first potential Promotion winner is selected, any/all entries from that particular jeweler will no longer be considered for the second random drawing. Odds will depend on the number of eligible entries received throughout the Promotion Period. The 18K G-SHOCK is subject to verification of eligibility and compliance with these Official Rules. Only two (2) potential Promotion winners will be selected amongst all eight (8) participating jewelers (i.e., there will be six (6) participating jewelers that will not have a Promotion recipient).
Promotion WINNER NOTIFICATION: Sponsor's decisions are final and binding on all matters relating to this promotion. Potential Promotion winners will be notified via email and will be required to complete an Affidavit of Eligibility, Liability and Publicity Release (unless prohibited by law) and any other documents required by Sponsor, which must be returned within seven (7) days of date appearing on such notification. Return of notification as undeliverable, failure to sign and return requested documentation within the specified time period, the inability of Sponsor to contact a potential Promotion winner within a reasonable time period or noncompliance with these Official Rules by a potential Promotion winner will result in disqualification and, at Sponsor's sole discretion, Promotion may be awarded to an alternate.
18K G-SHOCK (2):Each Promotion winner will receive the opportunity to purchase one (1) 18K G-SHOCK watch when it becomes available (and is currently scheduled to be available no later than November, 2021). Each 18K G-SHOCK watch will have an approximate retail value ("ARV") of $70,000. For the avoidance of doubt, each Promotion winner will receive the opportunity to purchase a 18K G-SHOCK watch from their applicable jeweler; the 18K G-SHOCK watch will not be awarded as a prize to each Promotion winner.
PRIZE CONDITIONS: Band length of the 18K G-SHOCK watch is shorter than standard products; so additional links may be necessary and thus additional delivery time for links will be necessary. . Promotion Winners may not substitute, assign or transfer their Promotion purchase opportunity or redeem Promotion prize purchase opportunity for cash. Winners are responsible for all applicable federal, state and local taxes and all other costs associated with Promotion prize acceptance and use not specified herein as being provided, including any/all costs associated with purchasing the 18K G-SHOCK watch, jewelry insurance and any/all transportation or shipping costs associated with obtaining the 18K G-SHOCK watch. All Promotion details are at Sponsor's sole discretion.
GENERAL CONDITIONS: By participating, each entrant agrees: (a) to abide by these Official Rules and decisions of Sponsor and judges, which shall be final and binding in all respects relating to this Promotion ; (b) to release, discharge and hold harmless Sponsor, participating jewelers, and their respective parents, affiliates, subsidiaries, and advertising and promotion agencies, and the respective officers, directors, shareholders, employees, agents and representatives of the forgoing (collectively, "Released Parties") from any and all injuries, liability, losses and damages of any kind to persons, including death, or property resulting, in whole or in part, directly or indirectly, from entrant's participation in the Promotion or any Promotion-related activity or the acceptance, possession, use or misuse of any awarded Promotion; and (c) to the use of his/her name, voice, performance, entry, and/or likeness for programming, advertising, publicity and promotional purposes in any and all media, now or hereafter known, worldwide and on the Internet, and in perpetuity by Sponsor and its designees, without compensation (unless prohibited by law) or additional consents from entrant or any third party and without prior notice, approval or inspection, and to execute specific consent to such use. By participating, entrant also agrees not to release any publicity or other materials on their own or through someone else regarding their participation in the Promotion without the prior consent of the Sponsor, which it may withhold in its sole discretion.
MISCELLANEOUS: Released Parties are not responsible for lost, late, incomplete, damaged, inaccurate, stolen, delayed, misdirected, undelivered, or garbled entries, or for lost, interrupted or unavailable network, server, Internet Service Provider (ISP), website, or other connections, availability or accessibility or miscommunications or failed computer, satellite, telephone or cable transmissions, lines, or technical failure or jumbled, scrambled, delayed, or misdirected transmissions or computer hardware or software malfunctions, failures or difficulties, or other errors or difficulties of any kind whether human, mechanical, electronic, computer, network, typographical, printing or otherwise relating to or in connection with the Promotion, including, without limitation, errors or difficulties which may occur in connection with the administration of the Promotion, the processing of entries, or the announcement of the Promotion, or in any Promotion-related materials. Released Parties are also not responsible for any incorrect or inaccurate information, whether caused by site users, tampering, hacking, or by any equipment or programming associated with or utilized in the Promotion. Released Parties are not responsible for injury or damage to any person's computer related to or resulting from participating in this Promotion or downloading materials from or use of the website. Persons who tamper with or abuse any aspect of the Promotion or website, who act in an unsportsmanlike or disruptive manner or who are in violation of these Official Rules, as solely determined by Sponsor, will be disqualified and all associated Entries will be void. Should any portion of the Promotion be, in Sponsoru2019s sole opinion, compromised for any reason, including virus, worms, bugs, non-authorized human intervention or other causes which, in the sole opinion of the Sponsor, corrupt or impair the administration, security, fairness or proper play, or submission of entries, Sponsor reserves the right at its sole discretion to suspend, modify or terminate the Promotion (or portion thereof) and, if terminated, at its discretion, select the potential winners in a random drawing from all eligible, non-suspect entries received prior to action taken. CAUTION: ANY ATTEMPT TO DELIBERATELY DAMAGE THE WEBSITE OR UNDERMINE THE LEGITIMATE OPERATION OF THE PROMOTION MAY BE IN VIOLATION OF CRIMINAL AND CIVIL LAWS AND SHOULD SUCH AN ATTEMPT BE MADE, SPONSOR RESERVES THE RIGHT TO SEEK ANY AND ALL REMEDIES AVAILABLE FROM ANY SUCH INDIVIDUAL TO THE FULLEST EXTENT OF THE LAW, INCLUDING CRIMINAL PROSECUTION.
ARBITRATION: Except where prohibited by law, as a condition of participating in this Promotion, entrant agrees that (1) any and all disputes and causes of action arising out of or connected with this Promotion, or any Promotion awarded, shall be resolved individually, without resort to any form of class action, and exclusively by final and binding arbitration under the rules of the American Arbitration Association and held at the AAA regional office nearest the entrant; (2) the Federal Arbitration Act shall govern the interpretation, enforcement and all proceedings at such arbitration; and (3) judgment upon such arbitration award may be entered in any court having jurisdiction. Under no circumstances will entrant be permitted to obtain awards for, and entrant hereby waives all rights to claim, punitive, incidental or consequential damages, or any other damages, including attorneys' fees, other than entrant's actual out-of-pocket expenses (i.e., costs associated with participating in this Promotion), and entrant further waives all rights to have damages multiplied or increased.
CHOICE OF LAW: All issues and questions concerning the construction, validity, interpretation and enforceability of these Official Rules, or the rights and obligations of entrant and Sponsor in connection with the Promotion, shall be governed by, and construed in accordance with, the substantive laws of the State of New York, USA.
REQUEST FOR WINNER'S NAMES: For the names of the winners (available after 6/11/2019) please contact the sponsor by mail at the address below or by calling at (973) 361-5400. Please reference CASIO 18K Gold G-SHOCK Promotion on any correspondence.
SPONSOR: Casio America, Inc., 570 Mt. Pleasant Ave, Dover, NJ 07801.
About G-SHOCK
CASIO's shock-resistant G-SHOCK watch is synonymous with toughness, born from the developer Mr. Ibe's dream of 'creating a watch that never breaks'. Over 200 handmade samples were created and tested to destruction until finally in 1983 the first, now iconic G-SHOCK hit the streets of Japan and began to establish itself as 'the toughest watch of all time'. Each watch encompasses the 7 elements; electric shock resistance, gravity resistance, low temperature resistance, vibration resistance, water resistance, shock resistance and toughness. The watch is packed with Casio innovations and technologies to prevent it from suffering direct shock; this includes internal components protected with urethane and suspended timekeeping modules inside the watch structure. Since its launch, G-SHOCK has continued to evolve, continuing to support on Mr. Ibe's mantra "never, never give up." www.gshock.com.
About Casio America, Inc.
Casio America, Inc., Dover, N.J., is the U.S. subsidiary of Casio Computer Co., Ltd., Tokyo, Japan, one of the world's leading manufacturers of consumer electronics and business equipment solutions. Established in 1957, Casio America, Inc. markets calculators, keyboards, mobile presentation devices, disc title and label printers, watches, cash registers and other consumer electronic products. Casio has strived to realize its corporate creed of "creativity and contribution" through the introduction of innovative and imaginative products. For more information, visit www.casio.com.