Casio G-SHOCK Unveils Special Edition Connected MR-G At Baselworld
FOR IMMEDIATE RELEASE: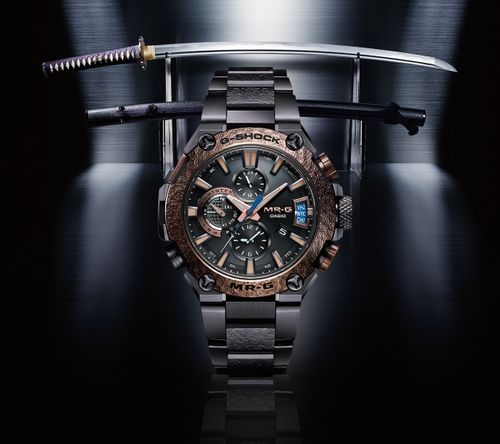 CASIO G-SHOCK UNVEILS SPECIAL EDITION CONNECTED MR-G AT BASELWORLD
Tsuiki Sword Guard is the Latest Evolution in Series of MR-G Watches To Feature Hammer Tone Finishes from Bihou Asano
MESSE BASEL, SWITZERLAND, MARCH 22, 2018
-Casio
G-SHOCK
unveils its 2018 Basel special edition men's connected MR-G model (MRGG2000HA-1), which is currently on display at Baselworld. With only 25 pieces available in the U.S., each handcrafted, one-of-a-kind MR-G timepiece features a brand-new hammer tone pattern called "Arashi-Tuchime" from artisan Bihou Asano and 3-way time sync capabilities. A limited edition of just 350 of these watches will be released worldwide.The new MRGG2000HA-1 will be on display at Baselworld from March 22-24 at the Casio booth, located in Hall 1.1 B67, B71. Bihou Asano, a third-generation master artisan of the tsuiki technique,*1 whose accomplishments include restoring Important Cultural Properties of Japan, supervised and helped to perform the manual application of a technique called arashi-tsuchime, used for every single watch. This special edition men's MR-G model was inspired by the unique texture found on the hilt guard of traditional Japanese swords. To achieve this one-of-a-kind look, Asano individually hammered each bezel, resulting in an artistic, titanium sword guard finish on every watch. Additionally, this textured hammer tone is applied to the inner band parts and the colors featured on the bezel and band boast shades of copper and deep violet found on the handle of Japanese swords. The MRG-G2000HA uses traditional colorings inspired by the aesthetic quality of murasaki-gane(deep violet metal) and suaka copper material used in Japanese craft traditions. Murasaki-gane is a metal alloy including gold, which adds to both its value and rarity, achieving a deep violet hue. This coloring on the watch case and band gives the watch a bold, regal look. The deep colors are achieved by a new application of AIP®(Arc Ion Plating),*2 a hardened coating to which a deep-layer hardening is applied for high abrasion-resistance. The MRGG2000HA-1A timepiece also includes premium features such as three-way time sync, made possible via Bluetooth Connectivity and the G-SHOCK app, as well as G-SHOCK's GPS Hybrid Wave Ceptor technology, which accurately measures time and location from anywhere on earth. The MRG2000HA-1A also features a sapphire crystal, titanium case and band with a special deep-layer hardening treatment – rendering it five times harder than regular titanium, and tough solar technology for self-charging capabilities. The watch also comes equipped with standard
G-SHOCK technology
of shock resistance and 200M water resistance, as well as world time (in 39 cities + UTC), an LED super illuminator light, daily alarm, stopwatch, countdown timer, day/date display, and a full auto calendar – all in a 49.8mm case. The MRGG2000HA-1A will retail for $7,400 beginning in July 2018 and will be available for purchase at select jewelers, and the G-SHOCK Soho Store.
About G-SHOCK
CASIO's shock-resistant G-SHOCK watch is synonymous with toughness, born from the developer Mr. Ibe's dream of 'creating a watch that never breaks'. Over 200 handmade samples were created and tested to destruction until finally in 1983 the first, now iconic G-SHOCK hit the streets of Japan and began to establish itself as 'the toughest watch of all time'. Each watch encompasses the 7 elements; electric shock resistance, gravity resistance, low temperature resistance, vibration resistance, water resistance, shock resistance and toughness. The watch is packed with Casio innovations and technologies to prevent it from suffering direct shock; this includes internal components protected with urethane and suspended timekeeping modules inside the watch structure. Since its launch, G-SHOCK has continued to evolve, continuing to support on Mr. Ibe's mantra "never, never give up." www.gshock.com.
About Casio America, Inc.
Casio America, Inc., Dover, N.J., is the U.S. subsidiary of Casio Computer Co., Ltd., Tokyo, Japan, one of the world's leading manufacturers of consumer electronics and business equipment solutions. Established in 1957, Casio America, Inc. markets calculators, keyboards, mobile presentation devices, disc title and label printers, watches, cash registers and other consumer electronic products. Casio has strived to realize its corporate creed of "creativity and contribution" through the introduction of innovative and imaginative products. For more information, visit www.casio.com.