Casio G-SHOCK Announces Partnership With Transformers Franchise For New Collaboration Model
FOR IMMEDIATE RELEASE: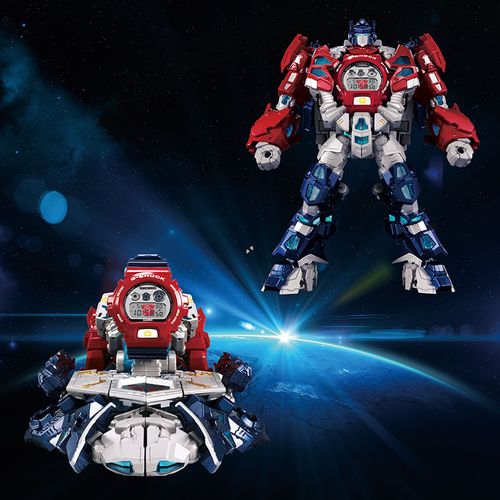 CASIO G-SHOCK ANNOUNCES PARTNERSHIP WITH TRANSFORMERS FRANCHISE FOR NEW COLLABORATION MODEL
Celebrating the 35th Anniversaries of Both G-SHOCK and TRANSFORMERS; Figure Transforms from a Robot to a Pedestal for the Watch
DOVER, NEW JERSEY, Nov. 26, 2018
- Today, Casio
G-SHOCK
announces a partnership with the global movie franchise,
TRANSFORMERS
, in honor of both entities' 35th anniversaries. The partnership will involve the release of a brand-new,
limited edition collaboration timepiece
that brings together the brand's classic men's DW6900 timepiece with the characters of the iconic TRANSFORMERS franchise. Compiled into a unique set with special packaging, the new DW6900TF-SET features the watch and a TRANSFORMER Master Optimus Prime Resonant Model figure that transforms from a robot to a watch pedestal. Following a joint commercial for ComicCon in Tokyo last year, this latest partnership between G-SHOCK and TRANSFORMERS unites two global brands that stand for ultimate strength and toughness. The special robot included in the
DW6900TF-SET
can integrate a G-SHOCK watch into its chest and transform back and forth between a standing robot figure, called Master Optimus Prime Robot Mode, and Pedestal Prime Mode, which displays the G-SHOCK. The watch included in the set is based off of G-SHOCK's popular DW6900 model and comes equipped with its own unique set of features. Boasting striking colorways of a red case and blue band, the watch matches the iconic colors of Master Optimus Prime. The watch also includes a custom EL backlight feature that depicts the Autobot symbol used in the franchise. In addition, the watch comes in special-edition packaging, showcasing the TRANSFORMERS logo and an image of Master Optimus Prime. The TRANSFORMERS franchise originated out of a toy line created in Japan by the company Takara Tomy K.K. (then known as Takara K.K.), based on the unique concept of "Robots in Disguise"— robots that deceptively transform into and back from various everyday objects. The parallel epic storyline takes place in a universe in which factions of transforming mecha-robotic lifeforms battle for supremacy. The TRANSFORMERS toy line was launched in the U.S. market in 1984 and was followed by a hit animated television series and comic book series. The TRANSFORMERS toy line and animated television series were later released in Japan in 1985. The TRANSFORMERS live action movie directed by Michael Bay and produced by Hollywood mogul Steven Spielberg was released in 2007 and became a big hit, launching a movie franchise. More than 500 million TRANSFORMERS figures have been sold to date worldwide in over 130 countries and regions, a testament to the massive global popularity of the TRANSFORMERS franchise. The DW6900TF-SET timepiece comes equipped with standard G-SHOCK technology including:
200M water resistance and shock resistance
Multi-function alarm
Hourly time signal
Stopwatch and countdown timer
Full auto-calendar
12/24 Hr Time Formats
Flash Alert
• 53.2mm case

The DW6900TF-SET will retail for $350 and will be available for purchase exclusively at the G-SHOCK's SOHO store and on gshock.com. About G-SHOCK
CASIO's shock-resistant G-SHOCK watch is synonymous with toughness, born from the developer Mr. Ibe's dream of 'creating a watch that never breaks'. Over 200 handmade samples were created and tested to destruction until finally in 1983 the first, now iconic G-SHOCK hit the streets of Japan and began to establish itself as 'the toughest watch of all time'. Each watch encompasses the 7 elements; electric shock resistance, gravity resistance, low temperature resistance, vibration resistance, water resistance, shock resistance and toughness. The watch is packed with Casio innovations and technologies to prevent it from suffering direct shock; this includes internal components protected with urethane and suspended timekeeping modules inside the watch structure. Since its launch, G-SHOCK has continued to evolve, continuing to support on Mr. Ibe's mantra "never, never give up." www.gshock.com.
About Casio America, Inc.
Casio America, Inc., Dover, N.J., is the U.S. subsidiary of Casio Computer Co., Ltd., Tokyo, Japan, one of the world's leading manufacturers of consumer electronics and business equipment solutions. Established in 1957, Casio America, Inc. markets calculators, keyboards, mobile presentation devices, disc title and label printers, watches, cash registers and other consumer electronic products. Casio has strived to realize its corporate creed of "creativity and contribution" through the introduction of innovative and imaginative products. For more information, visit www.casio.com.