The mystical radiance of eternity
— innovative toughness,
presented in a distinctive colour design
Rainbow IP bezel and case, representing the Blue Phoenix
Rainbow IP with a blue base tone is applied to the metal frame. This mystical colour scheme presents an expression of the Blue Phoenix of mythical lore. No two watches feature exactly the same colouration. Each shines with a radiance all its own.
Presenting a one-of-a-kind look with a multicolour dial
Applied with techniques such as vapour deposition and coating, the rainbow IP's variegated hues adorn the watch hands, index, inset dial rings and other parts. Paired with the gold IP on the front screws, buttons and crown, this dial presents a vibrant appearance befitting this unique timepiece.
Navy-blue translucent band with sophisticated colour and texture
Made of soft urethane, the band features a gentle feel to offer a high-quality fit. The translucent navy-blue resin gives the band a colour tone that integrates well with the main body. Its double slide lever structure makes it easy to attach and remove.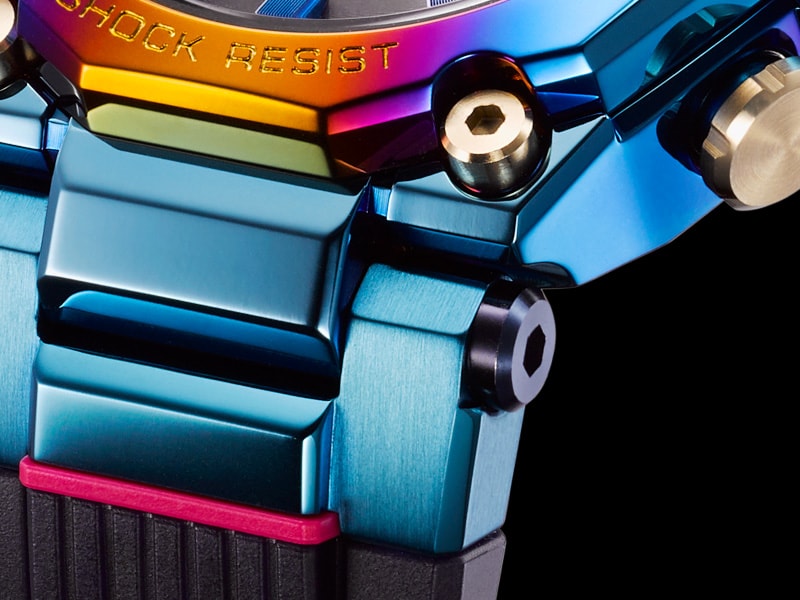 Distinguished finish to bring out the lustre of the metal
Sallaz polishing creates mirror surfaces with high degrees of smoothness in metal components' bevelled surfaces. Meticulously detailed finishes are also applied, including hairline processes and, for the crown, machining.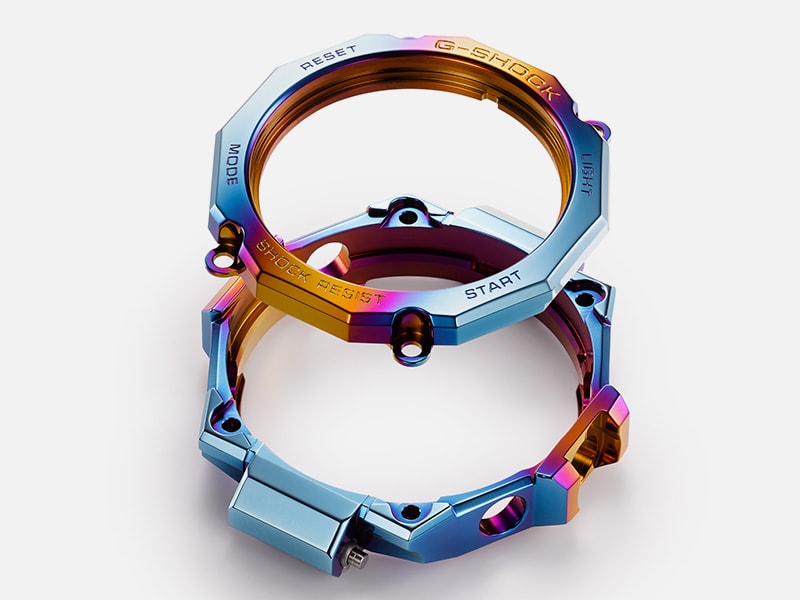 Independent polygonal bezel for enhanced metallic texture
Making the bezel structure separate from the case allows the angle of gradations to be varied to render lengthwise and crosswise colour variations. Our pursuit of beauty in colouration for this watch extends even to the sides, for an expanded range of colour expression that still retains the solid feel of metal.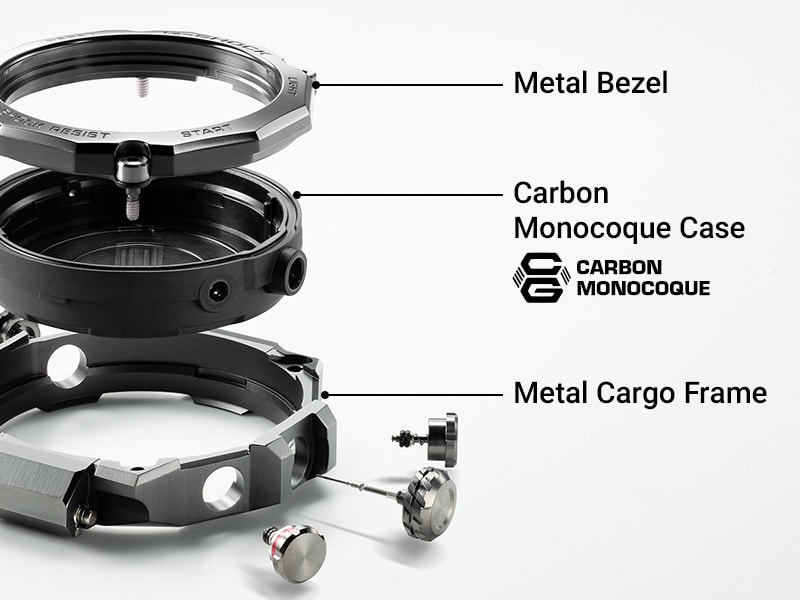 Dual Core Guard structure combining carbon and metal
We integrated the original MT-G Metal Core Guard structure with the latest G-SHOCK Carbon Core Guard. A monocoque case of carbon fibre-reinforced resin is placed inside a metal frame that connects the outer metal componentry interior, achieving high strength, airtightness and weight reduction all at once.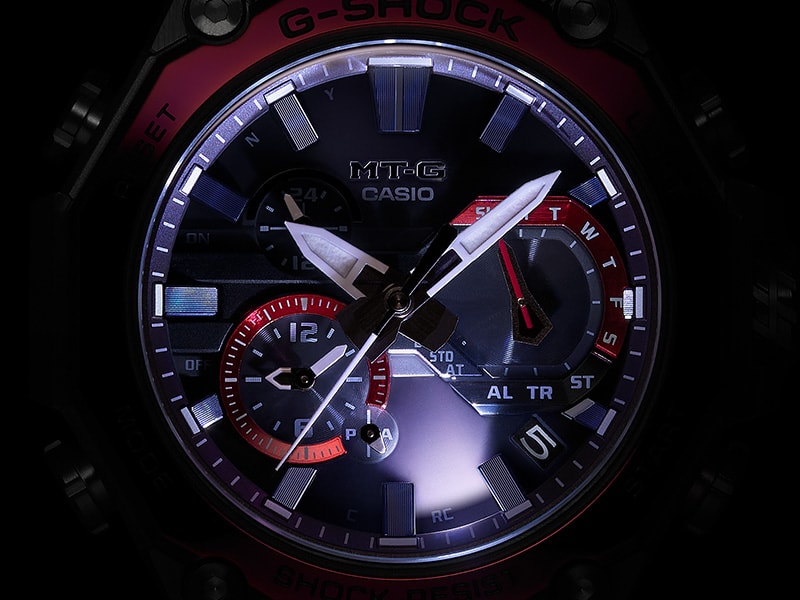 Super Illuminator (high-brightness LED light) for maintaining watch readability in the dark
High-luminosity LED light brightly illuminates the dial to ensure visibility in dim conditions.
* Image shows MTGB2000BD-1A4.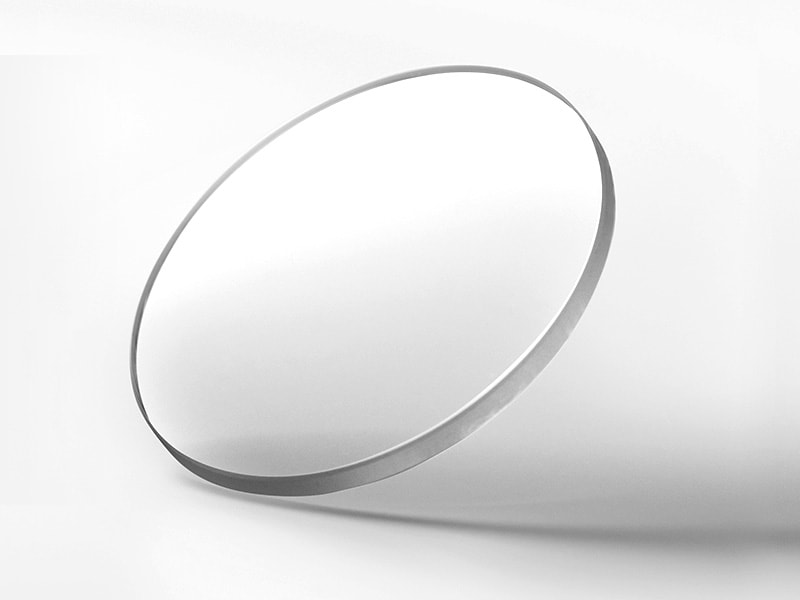 Scratch-resistant, highly transparent sapphire crystal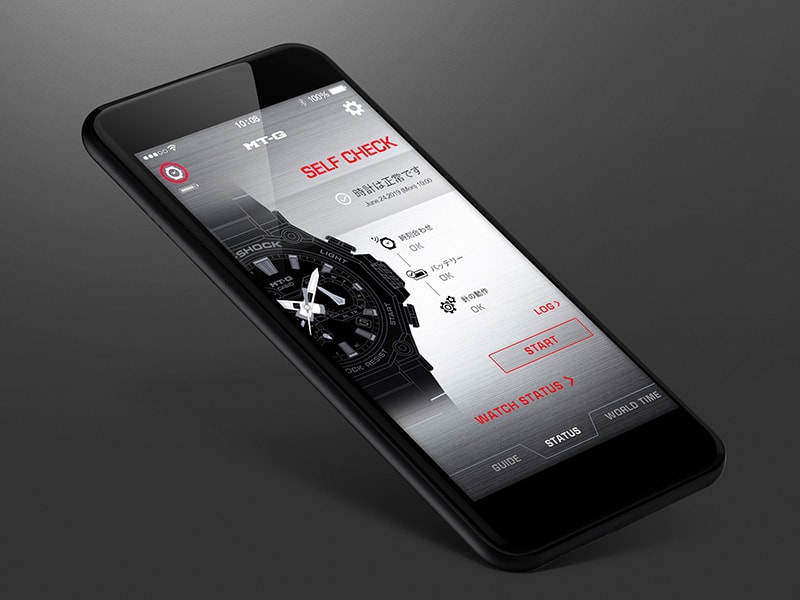 Solar-powered timekeeping with Bluetooth® and radio control for enhanced accuracy and reliability
Application
Easy to use with many user settings
* App screens shown here may differ from actual screens, since the app is currently under development.
Watch status display: Graphical display of time-reception status, solar power generation status, internal data update history and more.
Self check: Automatic evaluation of watch functions' operational status. Displays a screen alert in the case of malfunction.
Automatic time adjustment
World time: over 300 cities
Home time/world time switching
Timer/alarm setting
Phone finder
Supported Phone Models (As of September 2020)
iOS: iOS 11 or later
Android: Android 7.0 or later
* Bluetooth installed smartphone only.
* The Bluetooth® wordmark and logo are registered trademarks of Bluetooth SIG, Inc. and any use of these marks by Casio Computer Co., Ltd. is under license.
* Apple, the Apple logo and iPhone are trademarks of Apple Inc. registered in the United States and other countries. App Store is a service mark of Apple Inc.
* iOS is a trademark or registered trademark of Cisco Systems, Inc. registered in the U.S.
* Android and other related marks are the trademarks of Google LLC.
* All other company and product names are trademarks or registered trademarks of their respective owners.
* MTG-B2000PH is certified under Japan's Radio Act.
* Mobile Link features vary depending on mobile phone specifications and services offered by mobile carriers in your country.