A traditional Japanese hide called kachi-iro, literally "victory colour," accents the watch's design. A shade of deep navy blue meant to ensure victory, the colour adorned the helmets and armour of samurai warrior who achieved distinction through triumph. The spirit of these warriors and their approach to life sines through in every aspect of the design. From materials and construction to functionality — all are informed by uncompromising particularity. This new MR-G stands as heir to the time-honoured Japanese traditions of strength and aesthetic beauty.


The spirit of a warrior expressed with kachi-iro
The traditional Japanese hue of kachi-iro is a deep shade of navy blue seen in indigo dyeing. A favourite of warriors, who also called it katsu iro ("the colour of winning"), it was used to adorn helmets and armour for auspicious luck. Used as an accent colour in the watch design, it delivers a dignified appearance infused with the spirit of a warrior.
Face design projecting strength and brilliance
Uroko-mon, a traditional Japanese triangular scale pattern, is applied to the base surface, while cuts evoking the look of folding fans/screens adorn the perimeter. For the index, Yamagata Casio's nano-treatment technology is used to apply a grind-mark finish to sharp edges and curved surfaces to evoke the gentle curvature of a sword blade. Kachi-iro is applied to the inside of the bezel as well as the inset dials and logos for a robust look.
Special model with recrystallised titanium bezel
Recrystallised titanium is used to make the bezel. Applying a heat treatment brings out a distinctive crystallised pattern in the material, evoking the crystalline nie patterns that appear on Japanese swords. A Dura Soft Fluoro-Rubber band offers a soft, comfortable feel on the wrist as well as durability. It features the geometric bishamon kikko tortoiseshell pattern, a symbol of strength.
* Above description applies to the MRGB2000R.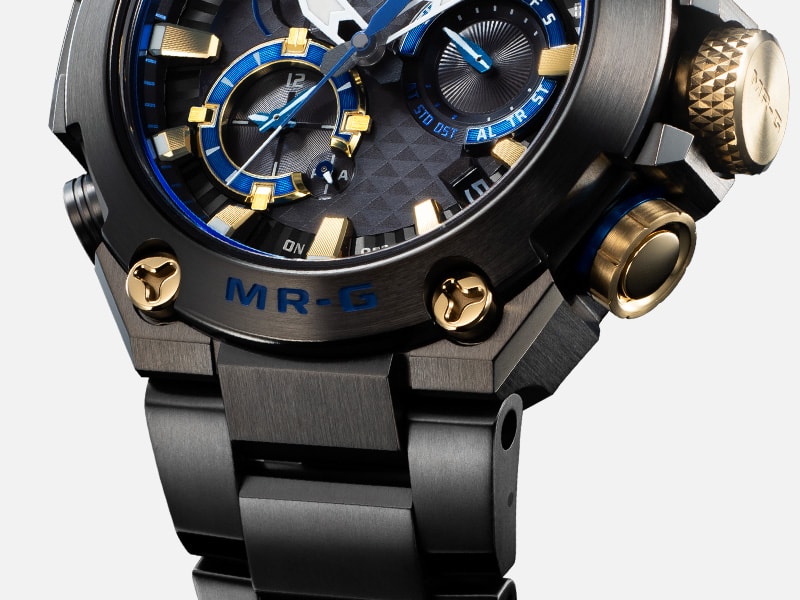 A double hardening process to preserve the beauty of titanium
A deep-hardening process gives the surface a hardness 4 to 5 times that of pure titanium. A diamond-like carbon (DLC) coating is also used to apply a carbon film with hardness approaching that of a diamond to the surface. This is total hardness with great beauty.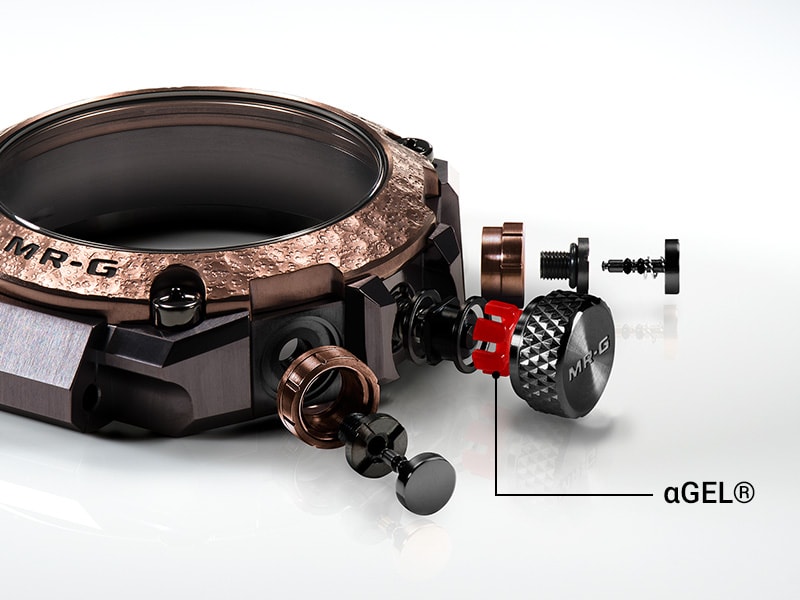 Clad Guard structure for reliable shock resistance and operability
Integration of the crown/buttons and guard parts offers improved shock resistance. αGEL* inserted into the crown helps to absorb shocks.
* αGEL is a registered trademark of Taica Corporation.
* Image shows MRGG2000HA-1A.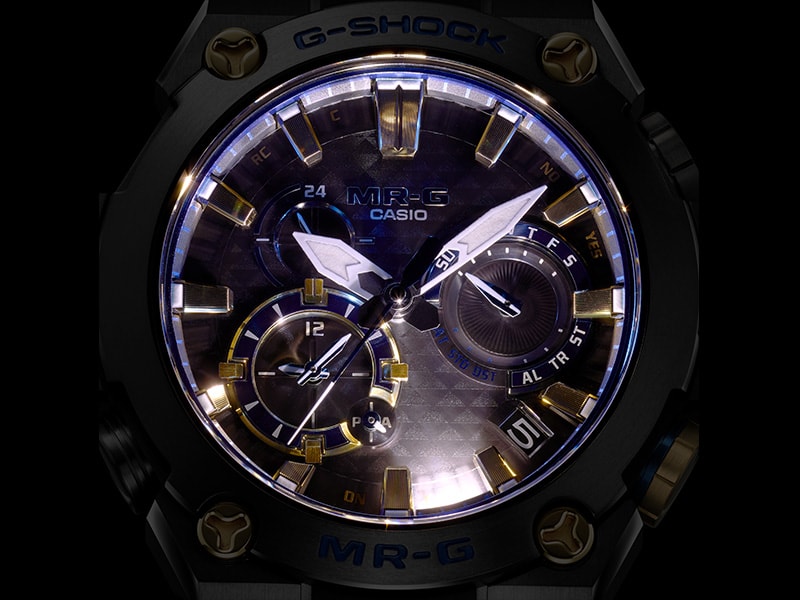 Super Illuminator (high-brightness LED light) for maintaining watch readability in the dark
* Shown in the photo is the MRGB2000B-1A.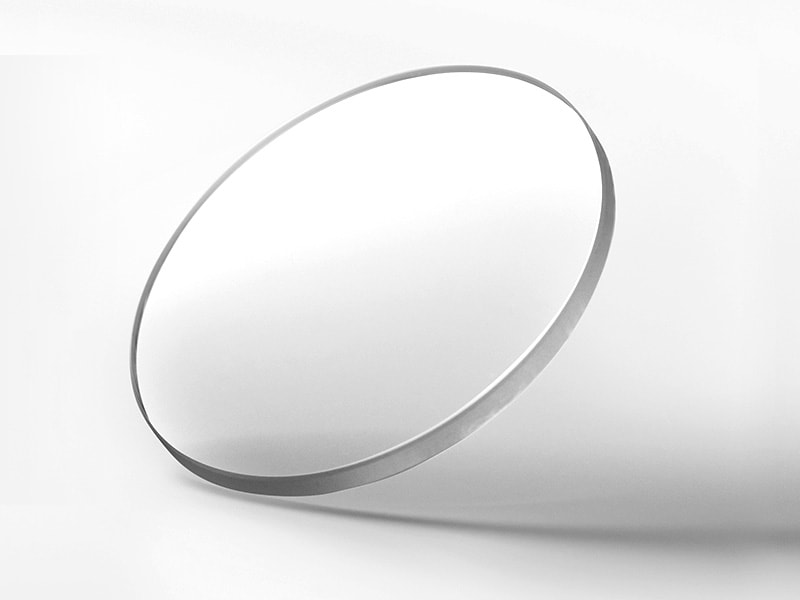 Scratch-resistant, highly transparent sapphire crystal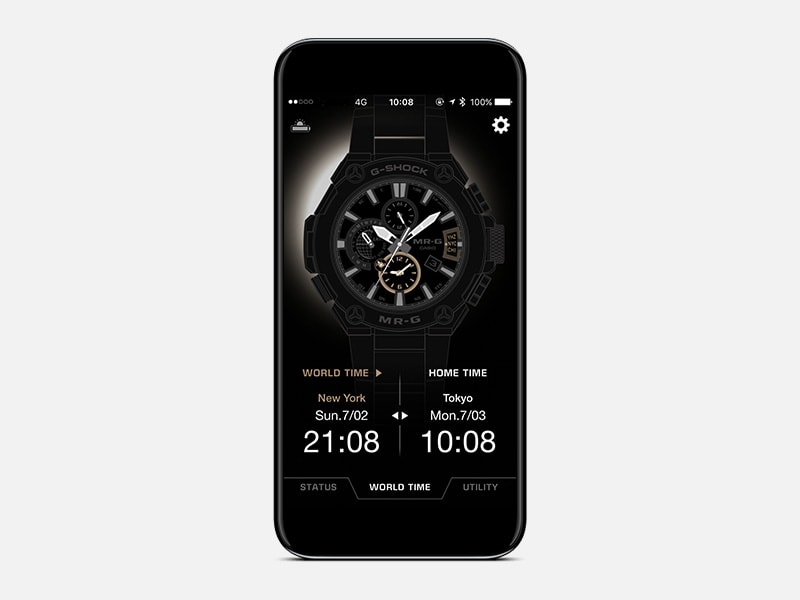 Solar-powered timekeeping with Bluetooth®and radio control for enhanced accuracy and reliability
Application
* App screens shown here may differ from actual screens, since the app is currently under development.
Watch status display: Graphical display of time-reception status, solar power generation status, internal data update history and more.
Self check (MRG-B2000) : Automatic evaluation of watch functions' operational status. Displays a screen alert in the case of malfunction.
Automatic time adjustment*
World time for over 300 cities
Home time/world time switching
Timer/alarm setting
Phone finder
※ The MRG-B1000 can connect with the push of a button, or four times daily on an automatic basis. The MRG-B2000 will connect automatically when within range of a paired smartphone.
* The Bluetooth® wordmark and logo are registered trademarks of Bluetooth SIG, Inc. and any use of these marks by Casio Computer Co., Ltd. is under license.
* Apple, Apple logo and iPhone are trademark of Apple Inc. registered in the United States and other countries. App Store is a service mark of Apple Inc.
* IOS is a trademark or registered trademark of Cisco Systems, Inc. registered in the U.S.
* Android and other related marks are the trademarks of Google LLC.
* All other company and product names are trademarks or registered trademarks of their respective owners.
* MRG-B2000B is certified under Japan's Radio Act.
* Mobile Link features vary depending on mobile phone specifications and services offered by mobile carriers in your country.