HANA-BASARA
The ultimate in metal form, created with leading-edge technology and time-honoured artisanship — unparalleled strength and beauty befitting the pinnacle of the G-SHOCK brand.
Basara was a term of respect used for samurai commanders who shattered conventions with a rebellious style that combined strength and a bold, lavish aesthetic. For this trailblazing watch, we first specially commissioned the making of an actual, one-of-a-kind MR-G Hana-Basara suit of armour based on the Basara commander spirit. Then we created this exceptional watch using the armour as the design motif. Employing ultra-hard COBARION and DAT55G alloys developed in Japan and inviting in a cutting/polishing artisan to apply techniques rarely used in metalwork, we achieved mirror-surface facet cuts in metal — a feat considered virtually impossible. This watch exudes a distinctive aesthetic sensibility and worldview that embraces two of Japan's proudest heritages: cutting-edge technology and traditional craftsmanship.


Born of artisanal technique and spirit, facet-cut bezel
For the bezel, we employed a facet-cutting technique borrowed from the gemstone arts. Cutting/polishing artisan KOMATSU Kazuhito applied crisp polishes to the many facets with their varying angles to achieve a brilliant, gleaming finish. Working with an ultra-hard alloy that is very tricky to process, kept production limited to just a few pieces per day — an intricate process that elevates this metal design to the realm of an artform.


Super-hard alloys developed in Japan, combining strength with beauty
The bezel is made of COBARION®, a cobalt-chrome alloy boasting a hardness about four times that of pure titanium and said to have a more brilliant gleam than platinum. The case and band employ DAT55G, a titanium alloy with a hardness about three times that of pure titanium that offers excellent processability. With these super-hard alloys developed in Japan, we achieved an exterior design that delivers both strength with beauty.
* COBARION is a registered trademark of the Iwate Industry Promotion Centre and is manufactured exclusively by Eiwa Corporation.
* DAT is a registered trademark of Daido Steel Co ., Ltd. in Japan.
Dark green DLC surface, reproducing a time-honoured Japanese hue
The traditional Japanese hue kurogane-iro (literally "iron colour") is reproduced on the bezel and band with our newly developed dark green DLC finish. A name derived from the deep shade of green that appears on the surface of iron heated to high temperatures, the colour evokes the distinguished presence of the iron-clad helmet and armour Basara samurai commanders wore.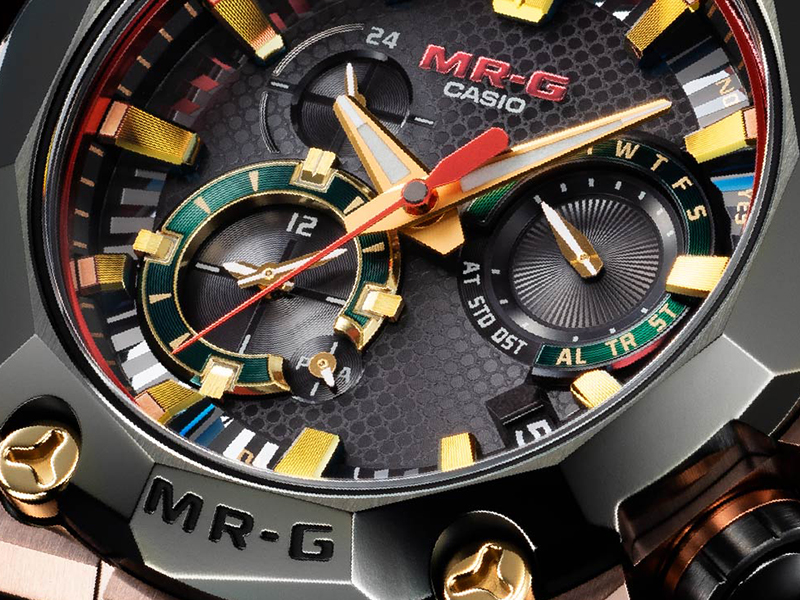 Face design inspired by Hana-Basara armour
The dial design incorporates a kusari katabira chainmail-inspired woven pattern and mirror-finished components with a folding fan pattern. The index features a curved form achieved with nanoprocessing to evoke the curvature of a Japanese sword. Adopting the Hana-Basara armour's blend of green, red, gold and black hues, the watch face presents a creative design look.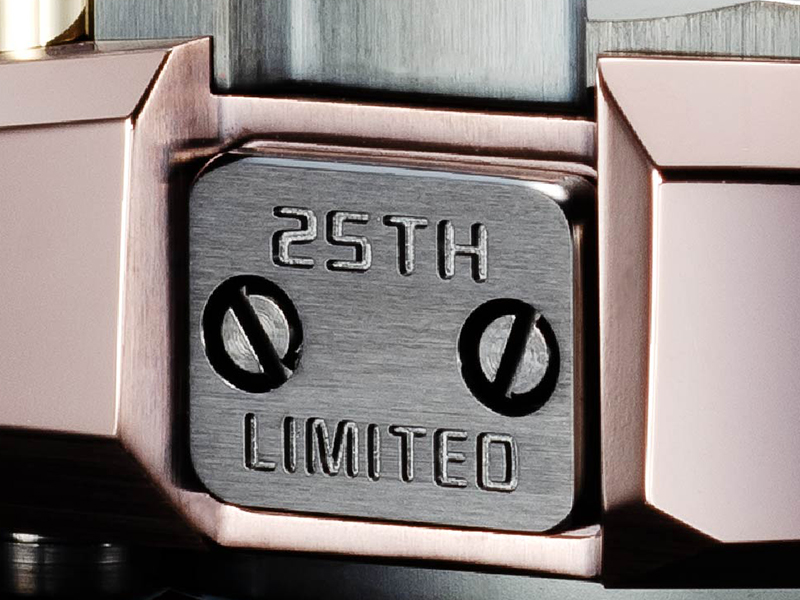 Plate commemorating the MR-G 25th anniversary
Brown AIP® (arc ion plating) is applied to the DAT55G case. A plate engraved with "25th LIMITED" adorns the case side to mark the 25th anniversary of the MR-G line.
* AIP® (arc ion plating) is a registered trademark of Kobe Steel, Ltd.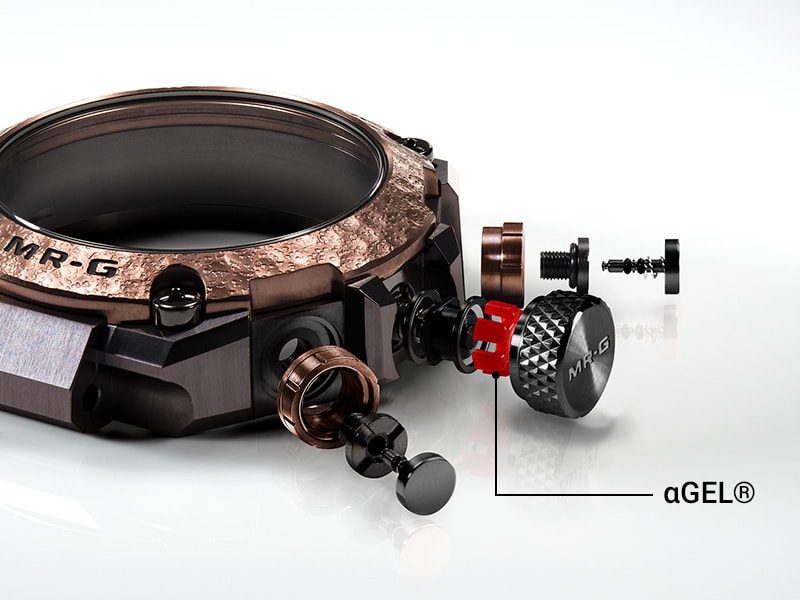 Clad Guard structure for reliable shock resistance and operability
Integration of the crown/buttons and guard parts offers improved shock resistance. αGEL* inserted into the crown helps to absorb shocks.
* αGEL is a registered trademark of Taica Corporation.
* Image shows MRGG2000HA-1A.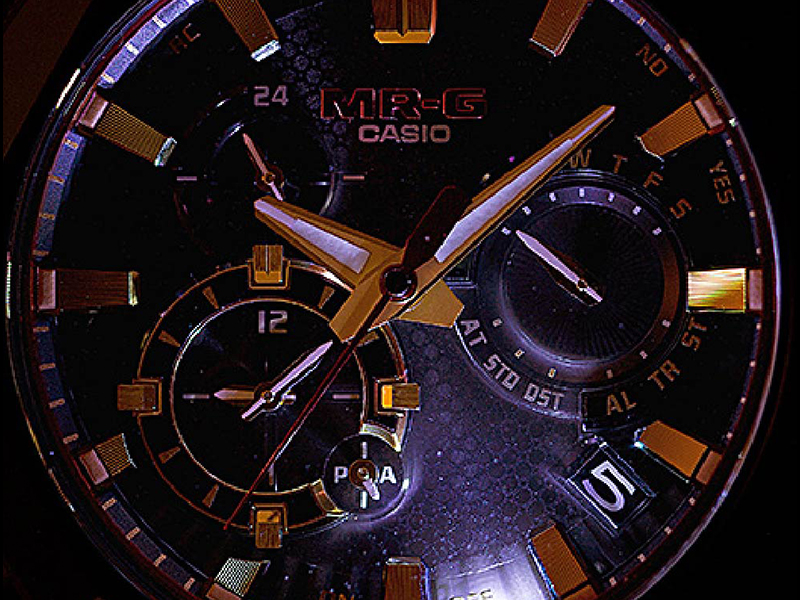 Super Illuminator (high-brightness LED light) for maintaining watch readability in the dark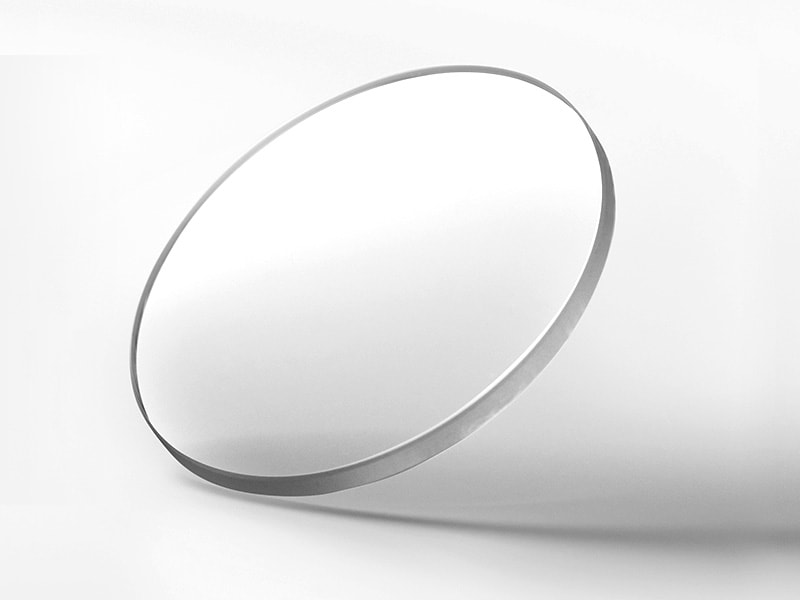 Scratch-resistant, highly transparent sapphire crystal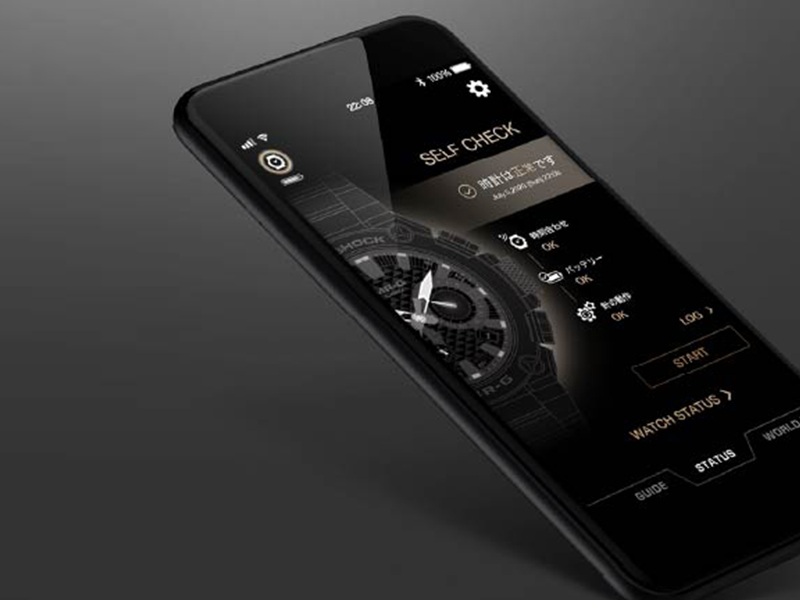 Solar-powered timekeeping with Bluetooth® and radio control for enhanced accuracy and reliability
One of KOMATSU Kazuhito's signature Hana Shinju faceted pearls provides a final decorative touch to the bezel featured on the kabuto helmet of this Basara samurai commander-inspired armour. An original creation made just for this project, this suit of armour embodies the worldview of the MRGB2000BS.
Made by helmet/armour maker SUZUKINE Yuzan (main body) and cutting/polishing artisan KOMATSU Kazuhito (maedate crest)
Application
Watch status display: Graphical display of time-reception status, solar power generation status, internal data update history and more.
Self check: Automatic evaluation of watch functions' operational status. Displays a screen alert in the case of malfunction.
Automatic time adjustment*
World time for over 300 cities
Home time/world time switching
Timer/alarm setting
Phone finder
SPECIFICATIONS
Shock-resistant structure

ISO 764-compliant magnetic resistance

20-bar water resistance

Tough Solar (Solar powered)

Smartphone Link

(automatic connection)

Radio-controlled

(Multi Band 6)

Auto hand home position correction

Dual time

Stopwatch

Countdown timer

Alarm

LED light

(Super Illuminator)
* Note: Bluetooth® wordmark and logo are registered trademarks of Bluetooth SIG, Inc. and any use of these marks by Casio Computer Co., Ltd. is under license.
* Apple, Apple logo and iPhone are trademark of Apple Inc. registered in the United States and other countries. App Store is a service mark of Apple Inc.
* IOS is a trademark or registered trademark of Cisco Systems, Inc. registered in the U.S.
* Android and other related marks are the trademarks of Google LLC.
* All other company and product names are trademarks or registered trademarks of their respective owners.
* MRGB2000B is certified under Japan's Radio Act.
* Mobile Link features vary depending on mobile phone specifications and services offered by mobile carriers in your country.